Scholarships, and financial aid bursaries are part of Curtin's commitment to rewarding academic excellence, supporting research and enabling students from all backgrounds to realise their potential.
These opportunities are available for both commencing and current Curtin Dubai undergraduate and postgraduate students. Scholarships are more than just financial support with tuition fees, they can enhance your portfolio of achievements. To find out if you qualify for it, you would be required to fill in an application.
Curtin Dubai funding opportunities
Before applying, it's important to understand the different types of funding available to prospective and current Curtin University Dubai students:
A Scholarship is granted to a student for merit in academic study, industry contribution, and service to the community or any other achievement
A Bursary is a need-based financial aid granted to a student
A Tuition Grant is a grant-in-aid granted to a student, without merit or financial aid, as part of the Campus's policy or for excellence in other activities
All applications are reviewed by the Dean's office and the scholarship committee. Recipients will have to maintain the prescribed academic grades in order to retain funding.
How to apply for scholarships or funding at Curtin Dubai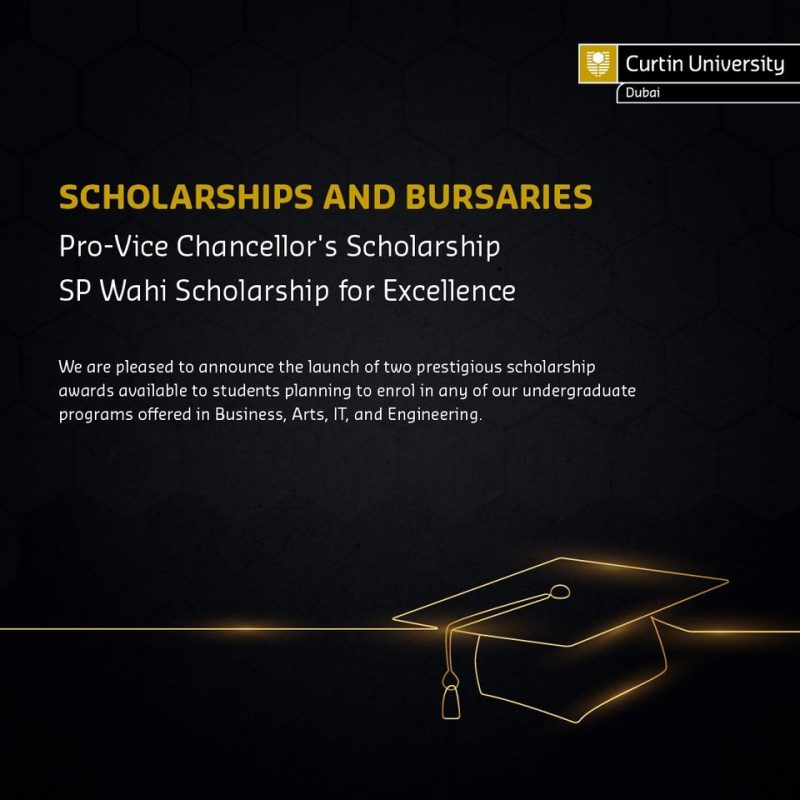 a. Students must apply for funding using the appropriate request form along with a supporting letter highlighting their merits or need for financial aid. Applications must be completed in full to be eligible. Incomplete
applications will be deemed unsuccessful.
b. All relevant supporting documents, including original academic documents must be presented to Curtin Dubai
for review before application deadline.
c. Students who receive a Conditional Offer Letter must provide the remaining documents and complete pending
formalities to continue to be enrolled in their units for the applicable teaching period. These documents need to
be provided by the census date to avoid automatic withdrawal.
d. To accept your funding offer, you will need to sign and submit the Award Letter to your Admissions Officer
Types of scholarships & funding options at Curtin Dubai
Curtin university Dubai offers multiple scholarship & financial aids for international students. Below listed are different types of scholarships at our Dubai campus
Scholarship assessment criteria.
Merit-based applications will be assessed by a selection panel based on the information you have provided. Your application will be reviewed by the Campus's Student Funding Committee. As the Education Management Services provider, Transnational Academic Group Middle East FZ LLC will have the final authority on all scholarships, bursaries, and tuition grants decisions.
If you are applying for a need-based bursary or tuition grant, the assessment is based on answers to questions in the application form relating to socio-economic status, income and living arrangements and additional circumstances that affect your ability to study.
Managing your scholarship, bursary or tuition grant.
As a beneficiary, you need to ensure you get the most out of your award. Each funding category has conditions in place that are outlined in your terms and conditions. These conditions will require you to maintain standards of academic performance, study load and general conduct.
You may be considered for funding if you study part-time. Financial need-based funding allow part-time study; however, most merit-based funding is only offered for students who are studying full-time (75 or 100 credits per semester).
Your enrolment and results will be checked each teaching period to ensure you are meeting the conditions of your funding category. You will be notified if you have not met the requirements of your funding category.
Flexible payment plans & sanctions
Flexible payment plans are offered at the discretion of Transnational Academic Group Middle East FZ LLC.
Students applying for a flexible payment plan must demonstrate the need for such plan through documentary or other evidence.
A flexible payment plan enables the student to clear the trimester tuition in three (3) monthly instalments with the first instalment of 50% being paid immediately and the remaining two (2) instalments of 25% each paid through post-dated cheques.
Flexible payment plans for a teaching period will not be extended beyond the applicable teaching period.
e. Flexible payment plans will not be offered to students with past outstanding tuitions.
Students not clearing outstanding tuitions by the end of the teaching period will be placed on sanctions including but not limited to blocking academic results, withholding degree certificates/official transcripts and other encumbrances in line with the University's policy.
Other scholarship conditions
Your funding award is confidential and must not be discussed with other students. Failure to maintain
confidentiality will lead to cancellation of the funding.
Two or more funding categories cannot be clubbed together.
Scholarships, bursaries, and tuition grants are not transferable to any of Curtin's other campuses.
Beneficiaries must be in good standing in terms of all ethical, judicial, and academic norms.
Beneficiaries, particularly those who are awarded merit-based funding, are encouraged to engage in the
Campus's events and may be asked to represent the Campus as ambassadors from time to time. This helps build a feeling of community and position the student as an inspiration to younger and potential students of the University.
Contact For Funding
We are open from Saturday – Thursday from 9 am to 6 pm, except on holidays.
Dubai International Academic City.
Future Students Center
Phone : +971 4 245 2500
Email : [email protected]