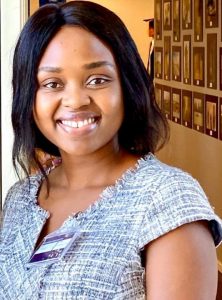 Tinotenda Dzimiri
Bachelor of Commerce in Finance
Tinotenda Dzimiri is a Bachelor of Commerce in Finance student and currently in her final trimester. She has interned as a part-time Finance Administrator at UK College of Business and Computing.
During her experience as an intern, she developed a solutions-based mindset, as well as the ability to demonstrate and maintain an admirable level of consistency and thoroughness towards her work. It enhanced her confidence, specifically when communicating with her colleagues and fellow students. In addition to this, she considered this experience an interesting learning curve which has revived the basic and necessary skills that one needs to succeed in any work environment.
We asked her to share some tips when applying for an internship, and her response is summarised as follows:
Don't hold back and know your worth. Knowing your worth is not limited to what you think you deserve as remuneration, but your ethics as well. Clearly defining those things, you can and cannot compromise on.
Don't undermine the 'small' steps you take today because they may lead you to greater and better things tomorrow.
Be true to yourself; honesty bares integrity.
When entering the workplace, be open minded. A lot of the things will be 'easy, boring, monotonous'. Never show your employer that you are not interested but go through it with a smile – that way they will see you are keen on learning new things and entrust you with more responsibilities.
Your dedication starts from day one.  Don't wait for work to become more interesting for you to show your dedication and commitment. Responsibility builds from your attitude exhibited from the first day.